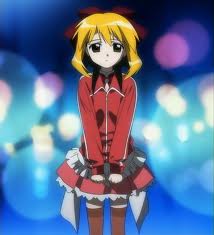 Minawa Andou is one of the main characters of Mahoromatic who is introduced in Mahoromatic: Something More Beautiful.
Biography
Edit
Minawa is a cyborg, though once thought to be an android, who had been sent to gather information on VESPER's battle android Mahoro after being promised a heart in return, although she claims to be a runaway member of The Management. Mahoro, however, convinces her that the fact that she can cry means she already has a heart.
Personality
Edit
Minawa is clumsy and anemic, and has a habit of apologizing for everything she does, even if she does nothing wrong. She is often viewed by Mahoro as her little sister, even though it is technically not the case, and Mahoro often acts as her guide to how to take care of the house.
Voice Actresses
Edit
Ai Shimizu (Japanese)
Lara Jill Miller (English, Something More Beautiful)
Christine Marie Cabanos (English, I'm Home)
Community content is available under
CC-BY-SA
unless otherwise noted.